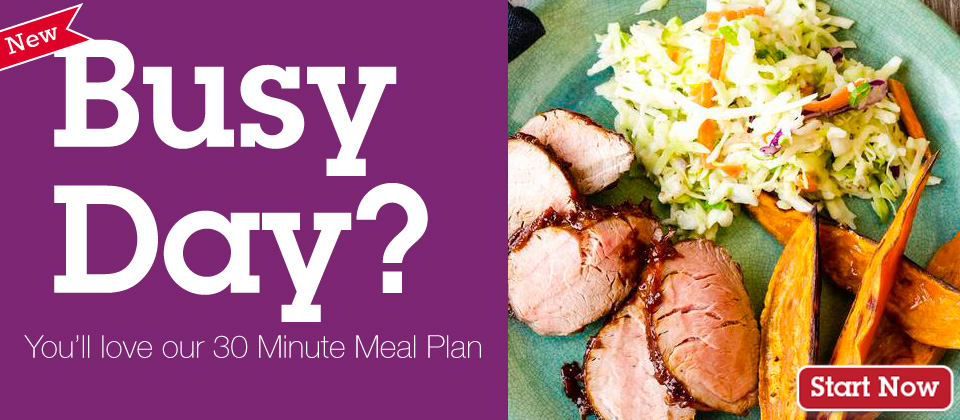 If you haven't got time to cook…think again!  You can make delicious and affordable dinners in a snap.  Enjoy shorter recipes, fewer ingredients, quick-prep slow-cooker meals and superfast twists on some old favorites. In response to customer demand, we created a 30-minute meal plan focused on providing nightly meals that can be made in a blink! Plans can be shopped at any grocery store, and all of the meals will take 30 minutes or less of preparation time. Depending on the season, this plan will often include 1 or 2 EASY PREP slow-cooker meals a week. Each week the eMeals 30-Minute Meal Plan will include tried-and-true classic recipes that will gain you the "Mom of the Year" award, along with simple, healthy options that are easy to prepare.
Examples of recipes from this plan include:
White Bacon Pizza with Homestyle Tomato Soup
Warm Barbecue Chicken Salad with Garlic Bread
Chipotle Flank Steak Strips with Seasoned Rice & Broccoli
So Simple Grilled Pork Chops with Creamy Pasta & Glazed Carrots
French Dip Sandwiches with Melon and Grape Salad
Easy Chicken Enchiladas with Saffron Rice and Shredded Lettuce
Pan-Seared Lemon-Pepper Fish with Homemade Rice Pilaf and Steamed Green Beans
Make sure you check out this new meal plan and the sample!