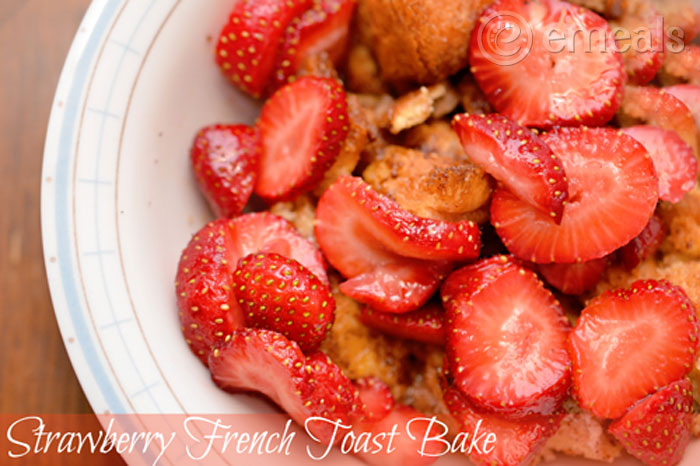 Our Aldi meal plan is one of our most popular for those on a tight budget. Just because you're on a budget, doesn't mean you have to sacrifice taste though! This Strawberry French Toast Bake recipe proves it! Amanda of Mommy of Two Little Monkeys made this recipe and submitted her photo to us. Here's what she had to say about it: "This tasted so good! I'm loving eMeals, and my husband and is loving that I'm cooking again! LOL"
If you snap a photo of your eMeals meal, please send it to photo@emeals.com along with the menu plan and menu number you used for the recipe and you may be featured here on our blog!

Ingredients
Strawberries:
½ pint container strawberries, diced
⅓ cup sugar
Filling:
½- 12 oz loaf French bread, cut in 2" cubes
4 eggs
1½ cups milk
2 teaspoons sugar
2 teaspoons vanilla extract
½ teaspoon salt
Topping:
2 tablespoons butter, melted
1 tablespoon cinnamon
2 tablespoons sugar
Instructions
Toss together strawberries and ⅓ cup sugar in a small bowl. Cover and refrigerate overnight.
Place bread cubes tightly in a single layer in the bottom of an 8x8-inch baking dish coated with cooking spray.
Combine eggs, milk, 2 teaspoons sugar, vanilla and salt, and whisk until well blended.
Pour egg mixture over bread. Cover and refrigerate overnight.
Preheat oven to 350°F.
Bake uncovered for 45 minutes or until set in center.
Remove dish from oven, and brush melted butter over top. Sprinkle generously with cinnamon and sugar.
Return to oven for 5-10 minutes.
Serve warm, topped with strawberries.