Like all winter squash, butternut squash are thick skinned with a hard shell and large seeds. They differ from their winter cousins with their smooth skin, longish neck, and a larger, roundish end. The outside is a pale beige while the inside flesh is deep orange.  They can brag that they're the easiest to cook because their flesh bakes and sautées up relatively fast. And they generally have less seeds. But it's their sweet, nutty flavor they make them insanely popular. Here's all you need to know to enjoy this wintertime wonder.
WAYS TO BUY
Whole/Fresh: Butternut squash can be on the heavy side, weighing between 2 to 4 pounds. Look for smooth skin that has no cracks or soft spots. A 3-pound squash yields about 4 cups uncooked 1-inch cubes.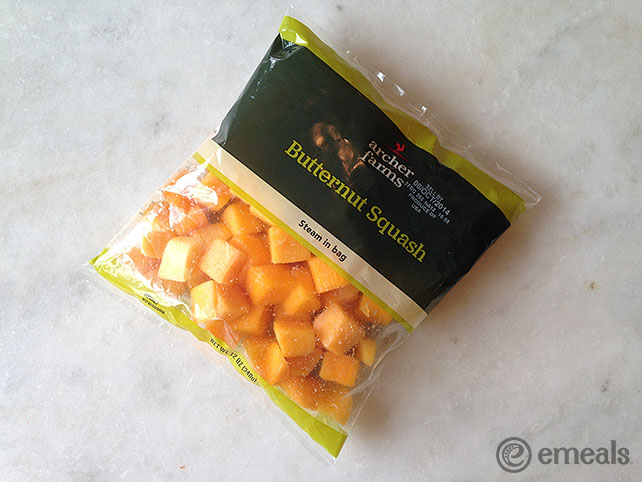 Fresh Cubed: You can now purchase fresh cubed squash in the produce section of most grocery stores! The package sizes are generally between 10 and 12 ounces. A 12-ounce package yields about 3 cups uncooked 1-inch cubes.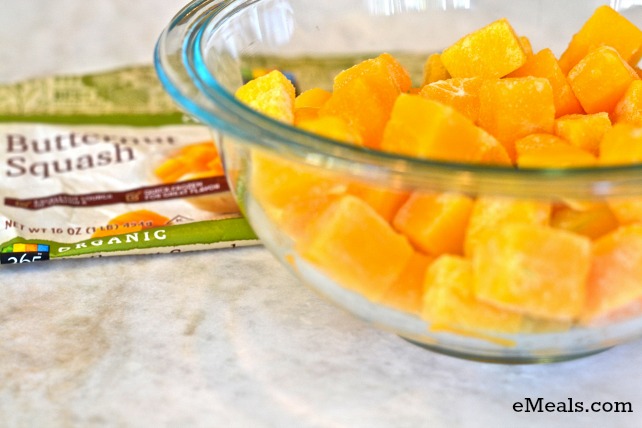 Frozen Cubed: You can also purchase frozen cubed/diced butternut squash at many grocery stores. Look for the packages along with all the other frozen vegetables. The package sizes are generally between 12 and 16 ounces.
HOW TO CUT A FRESH BUTTERNUT SQUASH INTO CUBES
1. Remove the ends and seeds: Cut off the stem and bottom ends of the squash so that both ends are flat. Cut the squash in half lengthwise. Scrape away the seeds and stringy fibers using a spoon.
Tip: Their description alone, hard shell squash, alerts you to the cutting and peeling process. To make it a bit easier, pierce squash several times with a knife (shallow cuts work just fine). Microwave on HIGH 1 minute.
2. Peel: Using a y-shaped vegetable peeler, peel away the skin. If you see any green streaks, make sure you peel them away as well until only that vibrant orange flesh is visible.
Tip: Since this is a hard shell squash, make sure you use a very sturdy vegetable peeler. We found it easiest to place the squash cut side down and peel lengthwise down the squash, but that's all up to you. Do what feels most comfortable.
3. Let's Cube: Cut the squash halves in half again, crosswise, just where the thinner neck end begins to widen into the larger, roundish (body) end.
4. Cut each squash piece into 1-inch-thick sticks.
5. Cut sticks into cubes.
6. Adjust your cube size depending on what the recipe calls for.
7. Done!
Butternut squash has been growing in popularity and will be popping up more and more in eMeals Meal Plans. Now that you're familiar with it, feel free to pick whichever way works best for you, whether it's fresh whole, fresh already cubed, or frozen. Have a question about butternut squash that we didn't cover here? Let us know in the comments, and we'll be happy to answer it!
– Text by Kate Nicholson