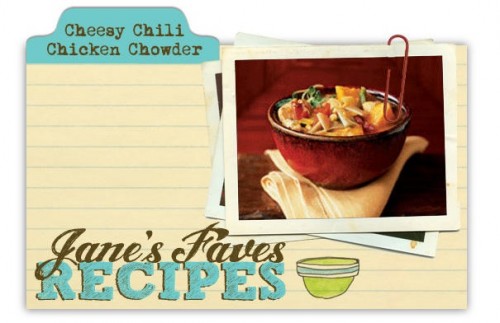 Here at E-Mealz, we are in the mood for some delicious fall chili! We're breaking out the sweatshirts, over-dosing on football, and enjoying the comfort of warm food with our loved ones. As we say in the South, if you too have a "hankerin'" for a yummy soup or chowder, here is one we wanted to share with you.
Personally, soups and stews for dinner are my favorite family meals. You can make them ahead… way ahead… then just re-heat and serve around the table. At my house there is usually a 'dinner straggler'  –  referring to the person that missed dinner because of a practice, work… or who knows what! Dinner left-overs await them, and soup is as easy as 1-2-3 to scoop and heat.
At the DeLaney house this fall weekend, Cheesy Chili Chicken Chowder will smolder and stir on my stove-top, inviting family and friends alike.
Cheesy Chili Chicken Chowder
Makes 6 to 8 servings
2 T butter
1.5 lbs boneless skinless chicken breasts, uncooked, cut into 1/2-inch chunks
1/4 c all-purpose flour
32 ounce box chicken broth
2 c milk
3 c frozen diced hash brown potatoes with onions and peppers
2 c frozen corn
1 T chili powder
2 t ground cumin
1 t ground coriander
1 t salt
1 c sour cream
2 c shredded cheddar cheese
In a large Dutch oven, melt butter over medium-high heat. Add chicken and brown. Add flour; cook, stirring constantly 2 minutes. Stir in broth, milk, potatoes, corn, and seasonings. Reduce heat and simmer for 30 minutes. Stir in sour cream and cheese; heat and serve with additional sour cream and shredded cheese, if desired.
Linking to: Foodie Friday, Tasty Tuesday