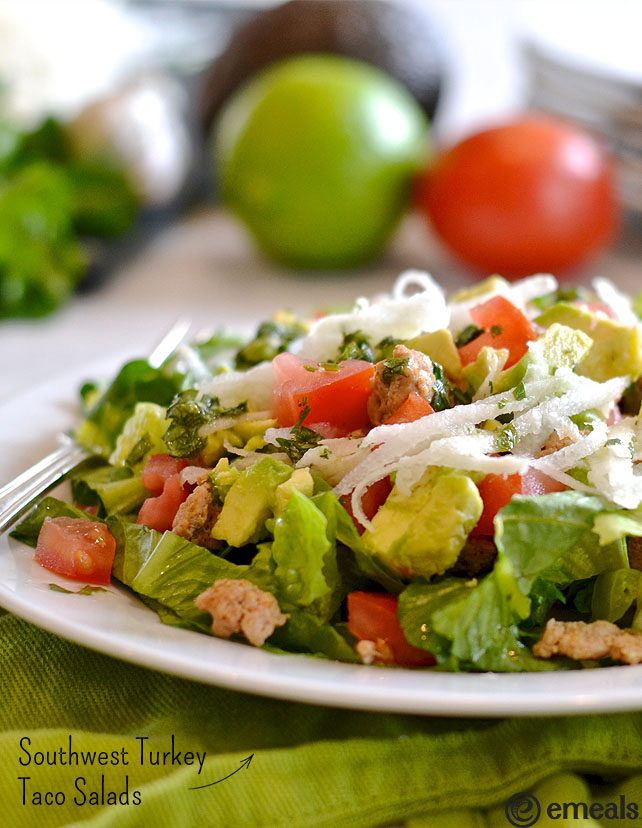 Here's a recipe to save in the recipe box! This Paleo-friendly Southwest Turkey Taco Salads recipe is a perfect fit for those following the Paleo diet and looking for a Cinco de Mayo recipe. Lean ground turkey has less saturated fats than the ground beef traditionally thought of in Tex-Mex dishes. The avocado provides healthy fats, while a homemade cilantro-and-lime dressing adds a burst of fresh flavor.
Southwest seasoning (such as Mrs. Dash) is available in many grocery stores in the spice aisle, but if you already have Montreal Chicken Seasoning on-hand, use that! The recipe will still be just as good.
If you aren't familiar with jicama, you can click here to check out our primer on the mellow root veggie: All About Jicama: How to Peel, Chop, and Shred

Not following Paleo? You'll still love this recipe! Just substitute canola or vegetable oil for the coconut oil.
Southwest Turkey Taco Salads
Not following Paleo? Use canola or vegetable oil instead of coconut oil.
Ingredients
1 Tbsp coconut oil (or use avocado oil)
11/2 lb ground turkey
3 cloves garlic, minced
11/2 Tbsp Southwest seasoning (or use Montreal chicken seasoning)
1 tsp salt, ½ tsp pepper
¼ cup fresh lime juice
¾ tsp garlic salt
¼ cup extra virgin olive oil
¼ cup chopped fresh cilantro (or use parsley)
2 romaine lettuce hearts, shredded (8 cups)
2 ripe avocados, diced
4 Roma tomatoes, seeded and chopped
1 medium jicama, peeled and shredded
Instructions
Heat oil in a large nonstick skillet over medium-high heat; add ground turkey, garlic, seasoning, salt and pepper. Cook 8 minutes or until turkey is no longer pink, stirring occasionally.
Whisk together lime juice and garlic salt in a small bowl until blended. Gradually whisk in oil, blending well; stir in cilantro.
Divide turkey mixture, lettuce, avocado, tomato and jicama evenly among 6 plates; drizzle with dressing.