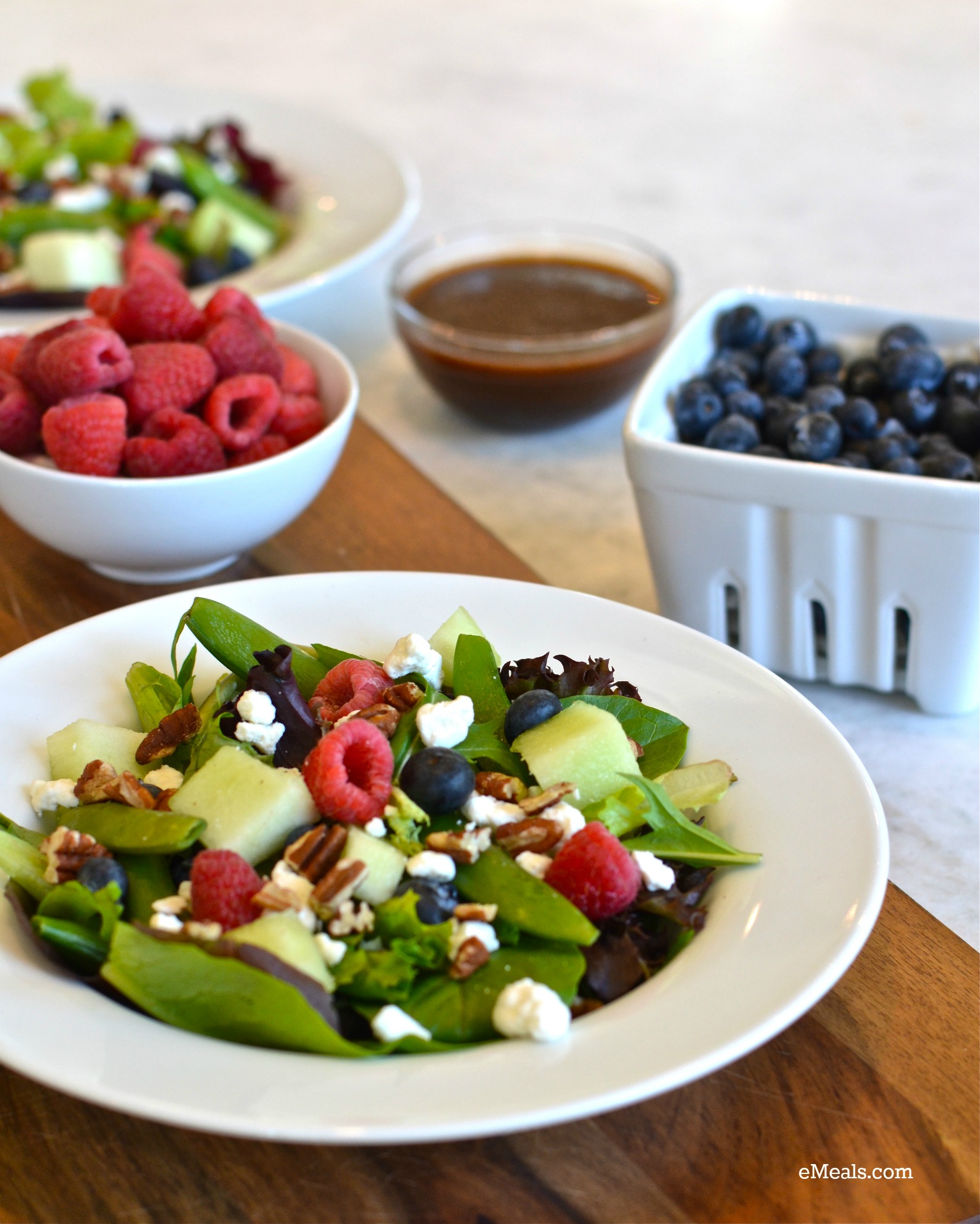 Are you ready for a tasty and refreshing salad that's perfect for spring and summer? This salad is loaded with fresh fruits and veggies including blueberries, raspberries, honeydew and more, so there's no shortage of varied produce in this colorful salad! We really like this salad dressing as well with the complimentary raspberry notes. Or maybe we just liked the vinaigrette dressing because it was so much fun to shake up in the mason jar! Stay tuned for a video on making vinaigrettes soon. And last but not least, the goat cheese sends us over the edge! Goat cheese is a staple in our Clean Eating plans and really in our lives in general…it's so creamy and flavorful. If you haven't ventured out and tried it yet, hop to it!
If you need more clean eating recipes like this to help you slim down and tone up, then check out our Clean Eating Meal Plan! Each meal plan is developed by our team of expert recipe developers and editors.  They spend hours each week crafting simple to follow recipes so you can enjoy eating with your family. If you're not sure what clean eating is, clean eating is a lifestyle approach to eating aimed at enjoying food in its most natural state. clean eating meals feature fresh vegetables and fruits and whole grains and lean proteins in abundance while keeping processed foods to a minimum. Our meal plan provides a practical way to feed your family simple, healthy, delicious meals made with natural ingredients.

Clean Eating Berry & Goat Cheese Salad with Toasted Pecans
Ingredients
½ (8-oz) package sugar snap peas, trimmed
5 oz package spring mix
1 cup fresh blueberries
1 cup fresh raspberries
1 cup fresh honeydew chunks
½ (4-oz) log goat cheese, crumbled
¼ cup chopped pecans, toasted*
2 tablespoons raspberry balsamic vinegar (or regular balsamic vinegar)
1 tablespoon honey
1 teaspoon Dijon mustard
⅛ teaspoon salt, ⅛ teaspoon pepper
¼ cup olive oil
Instructions
Cook peas in boiling water to cover 1 to 2 minutes or until crisp-tender.
Drain and rinse with cold water to cool. Drain well, and pat dry.
Layer spring mix, peas, berries, honeydew, cheese and pecans evenly in 4 containers.
Whisk vinegar, honey, mustard, salt and pepper in a small bowl, whisking until well blended.
Gradually whisk in olive oil.
Pack 2 tablespoons dressing in each of 4 small containers with salads.
*Note: Toast pecans in a small dry skillet over medium heat until golden and fragrant.
What's your favorite spring salad?