So it's been a LONG day around the Vann household, as most hump days are, because Wednesdays are Daddy's Day. I'll explain further; NO daycare, Mommy is at work until 6:30 pm, and Daddy sacrifices his work day to take care of the house, our newly born son (Tucker 4 mos.), and everything else for that matter. As if Daddy Daycare isn't enough, Mommy insisted that dinner be ready when she gets home from work!
It's 12:30 and my wife calls from work; "We have nothing to eat in the house, Can you please go get groceries, and make dinner?" WHAT?! It's rare that I cook in our household, only because my wife is such a great cook, of course! Unhappily I agree, and ask her what I should get. She says to me, "Just print out the E-Mealz menu and pick something from there."
SHE has been doing E-Mealz for quite some time now, and together we have enjoyed some great meal experiences. To keep it short; it's always been "her thing" and I've let her have it. But with a new-found 26-year-old (my b'day was 4 days ago) sense of adventure, I head off with list in hand and baby Tucker  in tow to the grocery store, bound and determined to have dinner on the table by 6:30!

5:45 Put Tucker down for his nap…
Time to start cooking!
I chose the "quick" meal of the week from our Publix for 2 plan, only because it's been a hard day, a long difficult, taxing day full of playtime, naps, toys, and… Ok, I'm a guy, of course I chose the "quick" meal.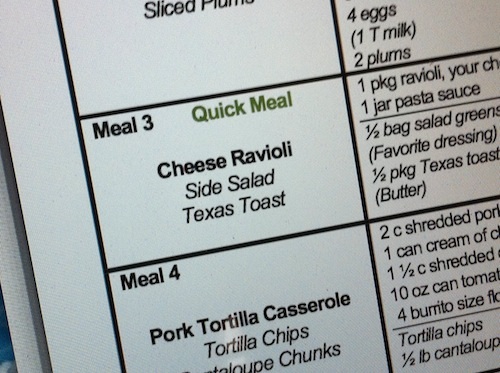 So here we go!

Armed and ready with everything I need, I proceed with the instructions, all the while wondering, "Surely she hasn't been demanding all this credit for such an easy, painless, and I must say quite pleasurable experience in the kitchen."
I have to admit I was preparing myself to really mess it up, but once I got "in the zone" I couldn't wait for her to get home, and have a seat to enjoy the amazing cuisine I was going to be serving up.

So my wife gets home at about 6:15 and everything is almost ready. She anxiously awaits and peers into the kitchen wondering what we're having for the night.

Stephanie and Tucker had to sneak a peek…
I begin to prepare the table after less than 30 minutes in the kitchen, and can't believe how much fun it was, or what a delight it was to prepare dinner for my wife. I was able to relieve her. Not only of  the pressure of preparing dinner, but she was also able to relax when she got home from work and spend time with our son.
…While Daddy cooked Dinner!!

Success! Thank you E-Mealz for a wonderful experience!
-Dustin Vann
Dustin and Stephanie have been using E-Mealz for their meal planning and budgeting since 2007. If you would like to submit your E-Mealz story for review, please contact HeatherBrown@e-mealz.com.