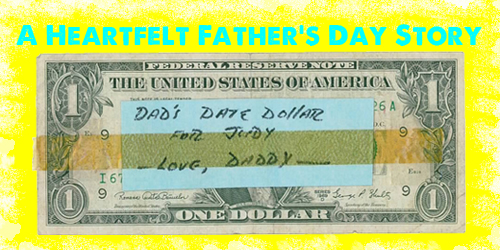 My sweet Dad put one of these homemade "Date Dollars" in our stocking every year at Christmas. There were five of us and we could each redeem it every month for a one-on-one exclusive "date with Dad." For a milkshake, for breakfast, to the store, run an errand. It didn't matter. Most of the time I would tuck my "Date Dollar" away and often forget I even had it to redeem. But it always was there as an inscribed reminder that my Dad loved me and wanted to demonstrate that tangibly.
Even without a "Date Dollar," my Dad demonstrated his love tangibly every day. Not just once a month, or on a random date to get ice cream. We dated our Dad every night at dinner.
He was always there, at the head of the table. It was a rare occasion that his chair was empty. As soon as he sat down, first thing he'd do was reach back, take the phone off the hook, put it in the drawer behind him, then shut the drawer to muffle the annoying beep until the phone went dead. I can still see that mustard yellow spiral cord hanging out of the wood hutch drawer.
Dinner was to be uninterrupted. Our sanctuary. No outside intrusions. No TV or ring tones. It was our time as a family to be together. Predictable. Like clockwork. A simple prayer of thanks. Good food for certain. Conversation. Laughter and connection. It's where I belonged.
Thanks Dad for being our date every night. Thanks for coming home from work every night in time for dinner. For every conversation, for every hug you gave when you walked in the door. For always loving our Mom, loving God, loving us. For taking your place in our family.
Happy Father's Day to the greatest dad in the world!