Okay, Moms and Dads. You gotta try these three-ingredient friendly Halloween treats for your kids. Grab a bag of colored candy melts and candy eyes from your local arts-and-craft store, and set aside a little time to whip these out. They're the perfect portable treat to take to a fall festival or Halloween party at school.
Milano cookies work the best, but Nutter Butter sandwich cookies or even Oreo cookies are options, too. Arrange them on a bright-colored serving tray, and serve 'em plain. Or, stick them in the top of chocolate-frosted cupcakes for a cute garnish. You can find all the fun decorating items you need at your local craft store.
Related Recipe: Halloween Mummy Cookies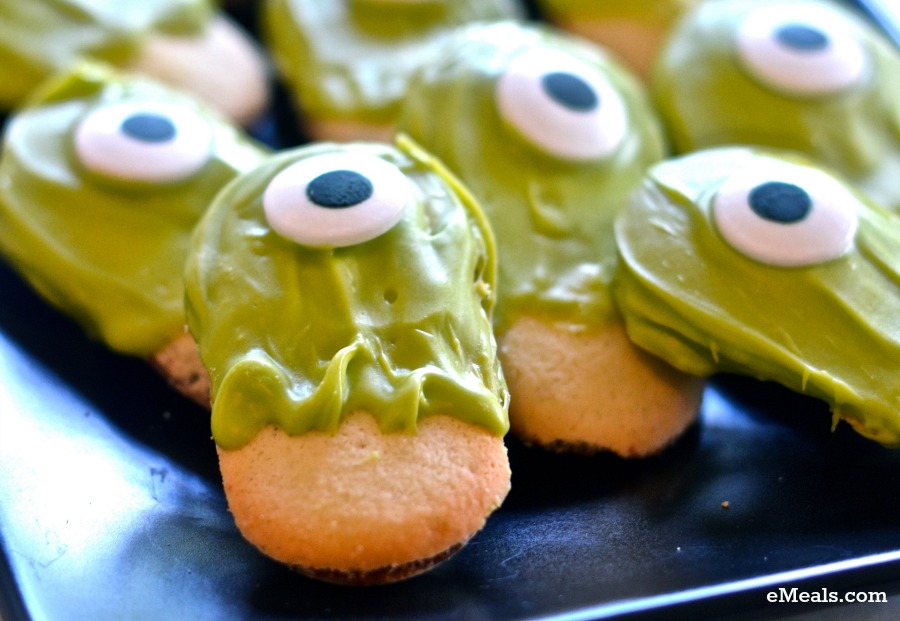 Love baking and fun desserts? Check out our eMeals Dessert Plan!

Halloween Monster Eyes Cookies
Ingredients
1 (12-oz) package vibrant green vanilla-flavored candy melts (such as Wilton®)
1 (6-oz) package milk chocolate-filled vanilla wafer sandwich cookies (such as Milano®)
1 (1-oz) package large candy eyeballs
Instructions
Pour half the bag of candy melts into a microwaveable glass bowl.
Microwave on MEDIUM for 1 minute; stir.
Continue to microwave in 30-second increments; stir until completely melted.
Spread a small amount of melted green candy onto one side of 1 cookie, smoothing it over the cookie with a dinner knife or small spatula.
Immediately press 1 candy eyeball into the coated cookie near top.
Repeat with remaining melted candy, cookies and candy eyes; let stand to harden.