We are thrilled to welcome Becky Higgins of Project Life to our blog today! She shares the same passion for family we have and is one of our wonderful Family Week sponsors! Make sure you go to our Facebook page to enter to win some of her Project Life materials.
It's about 5:00 on a Monday evening. I'm wrapping up a few emails or a load of laundry or getting off the phone, and inevitably the kids are starting to ask about dinner. Ugh. Dinner? Oh, right. That would be my responsibility – to feed my family.
Aaaand … here it comes. Here comes that familiar feeling called Mom Guilt. Here comes that feeling of frustration that I didn't pull my act together and plan meals and make it to the store to stock up on what we needed for this week. Here comes that question that pops into my head every time: "I'm perfectly content with a protein shake; why can't the kids go for that tonight?"
Today families are busier than ever. Even though I'd love to say that we're beating the odds and living a perfectly-balanced family life – our family of five is not the exception. I have come to recognize that in our busy-ness (which isn't "negative" because our time is spent doing many wonderful things) – it is our nutrition that seems to suffer. Meal preparation and cooking tend to be put on the back burner.
Just like eMeals, I believe that family time is sacred time and I believe that we should do everything we can to not only protect the time we have together, but I also think that as families, we should create opportunities for bonding and connecting with the most important people in our life. Indeed, part of cultivating a good life is gathering together for family dinner as much as we possibly can.
I have a tagline that underlines everything I do: Cultivate a good life and record it. Sure – everyone believes that we should each do our best to cultivate a life that is happy. Of course! But why is recording our life (through pictures + words) so important? And what does this have to do with family dinner time?
First of all, life is so much more than that trip to Disneyland, the day we got married, and Junior's graduation. Life is made up of going for a walk around the block, changing diapers, the pile of mail begging for your attention, carpool, play dates, looking for four-leaf clovers in the backyard, and eating an ordinary dinner with our family on an ordinary day.
When we take the time to document the little happenings in our everyday life, we are more keenly aware of how blessed we are. When we feel blessed, we are happy. When we are happy, we truly set the tone for our family's well-being and happiness. Amazing. Food is one of those things that's a part of everyone's day-to-day, no matter what your culture or family circumstances or place of residence.
Here are 10 food photo ideas that will get your wheels spinning about ordinary things to photograph that will help illustrate the story of your everyday life – your story.
1. Photograph something new you're trying in the kitchen this week.
2. Photograph what your family meal time looks like (set the camera on the counter and use the timer setting on your camera).
3. Photograph your favorite grill food.
4. Photograph your favorite food item to bring to a party.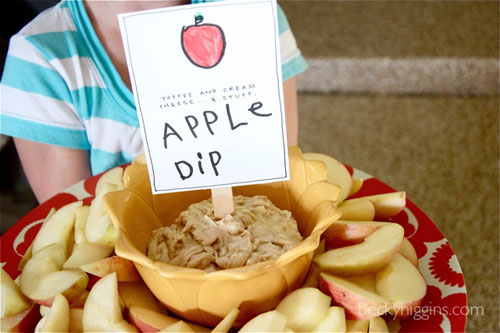 5. Photograph the post-dinner clean-up.
6. Photograph your kids learning to prepare food on their own.
7. Photograph your grocery list or cart full of groceries – or both.
8. Photograph your local grocery store or farmer's market.
9. Photograph your kids as they help set the table or unload the dishwasher.
10. Photograph one of your favorite snacks.
Check out my blog today to see 5 more food photo ideas.
…..
Becky Higgins developed a memory-keeping system called Project Life that is revolutionizing the memory-keeping industry as countless people are now able to get their memories into books without all the time, creativity, and fuss that is often associated with "scrapbooking". She is passionate about documenting everyday life and loves spending every day with her husband David and their 3 children. You can find her favorite recipes, home decor, everyday photography, and solution-based products at beckyhiggins.com. She also shares inspiring ideas daily on twitter, facebook, and instagram and is launching her first-ever 12-week online class called Project Real Life on Oct. 4.