We love highlighting our eMeals friends, and today we want to introduce you to Katie Harper, who we first met back in December. This Denver resident and busy mom appeared on her local Fox affiliate to talk about our eMeals Clean Eating Holiday Menu.
When she's not spending time with her husband and 3-year-old daughter or training for her next marathon, Katie, who's a Registered Dietitian (MS, RD) and Certified Specialist in Oncology (CSO) dietitian, works as a nutrition specialist on the bone marrow transplant and oncology floor at the University of Colorado Hospital.
How long have you used eMeals?
We just had our one-year anniversary, and we used the Clean Eating Meal Plan. We've enjoyed the menus so much that we have yet to try any of the other plans.
How did you plan meals before trying eMeals?
Prior to discovering eMeals I would sit down every Sunday with all my recipe books and choose 4 to 5 recipes to make for the week. I would then create a grocery list from those recipes. It was super time consuming!
Related Article: eMeals iPhone App Features: Managing your Grocery List
What encouraged you to try eMeals for the first time?
One day I was sitting at the table with all my menus around me, and my husband and I were getting bored with the same old recipes. I started to think that I either needed to create a meal planning app OR I needed to find someone who had already created one. That's when I found eMeals, which is affordable and saves me a ton of time.
You're a Registered Dietitian. Does that also mean you're a confident cook?
I'm actually not a confident cook, but I'm learning. eMeals is helping because the recipes are super easy and quick!
How has eMeals influenced your meal planning from a health standpoint?
In addition to helping us save time and money, the recipes have increased the variety in our diet, and helped us try new foods we would have never tried before. Like most moms, I'm always looking for shortcuts and ways to make my life easier without sacrificing our health (i.e. fast food, prepared meals with lots of chemicals/preservatives/salt, etc)—eMeals is the perfect solution.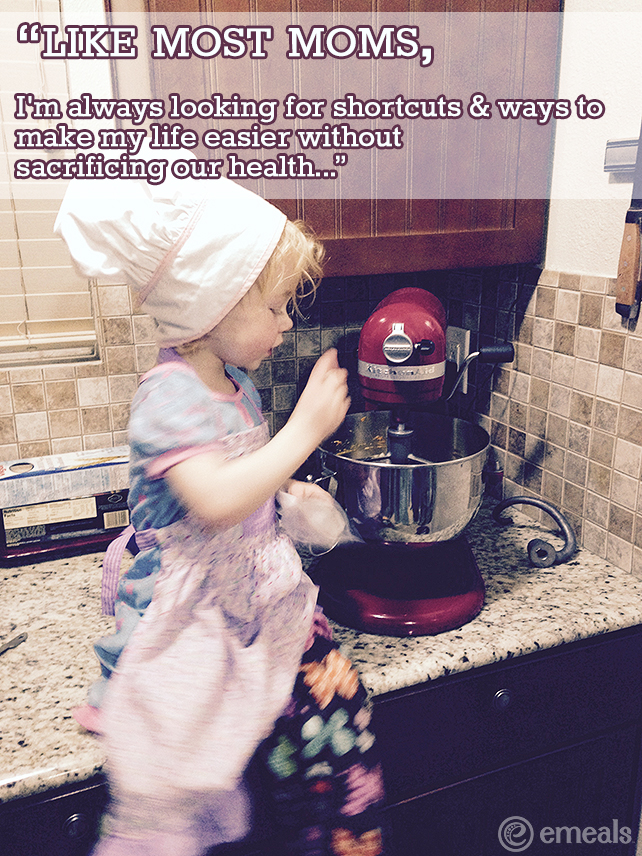 How beneficial is the grocery list part of eMeals?
It's awesome! I love using the app and always have the grocery list with me. I review my cupboard, fridge and freezer prior to going to the grocery to make sure I don't buy stuff we already have. Then I just check things off easily as I shop.
How well does the Clean Eating Plan fit your nutrition needs as a runner? 
When training for my marathons I have even less time to focus on eating healthy, meal planning and grocery shopping, so eMeals is a huge benefit. The meals are balanced with moderate carbohydrates, lean proteins, and vegetables/fruits, so they're in line with my nutrition needs.
Related Article: What to Eat for the Best Workouts
In addition to saving time, do you feel like you actually save money with eMeals?
Definitely! I save money because I'm more focused when I'm at the grocery store.  I also feel like I have less food waste since I use all the food I buy for the recipes.
Do you find that having meals planned has the trickle down of encouraging  your family to eat together?
Yes. I grew up with my mom cooking dinner most nights. She was a great cook and we dinner ate together as often as we could. Now, my family and I are able to do the same. Using eMeals, dinners are planned and quick to make, so it's much easier for us to eat together as a family.
Want to be highlighted on the eMeals blog? We'd love to hear from you! Give us a shout in the comments section below.