We are on vacation at the beach with the whole family… Great-grandparents to newborns and all in between… thirty people in total! Vacation with the family… or with multiple combined families… can be impossibly difficult to manage when it comes to feeding everyone. Breakfast and lunch is easy enough, but dinner time is the real problem.
Satisfying all ages, avoiding having to reserve a whole restaurant, not spending a fortune on food. So our Vacation Plan is another one of the beautiful things about E-Mealz that helps our lives as well as our members (we are using the 24 serving version).
With multiple families all staying in the same place, our plan makes it easy to shop for all the food you need for a week of dinners, divide the total cost, delegate the cooking and not have to worry about it for the whole week. The meal we chose to prepare for everyone is our very favorite, the Low Country Boil.
Since we are spending the week at the beach, we waited to shop for the local shrimp, and found some that was just brought in fresh from the Bay. Low Country Boil for 24 people requires at least one huge pot, so we decided to cook the corn in its own pot. We just followed the recipe, and it was delicious.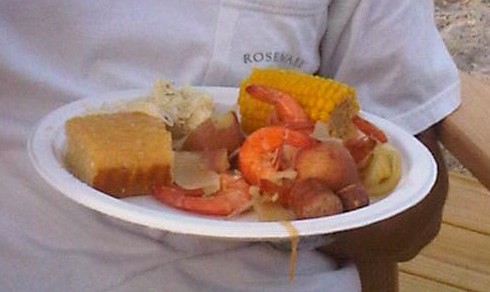 The cornbread was the perfect side, and we added a simple coleslaw. Everyone went back for seconds, and we have left-overs for lunch today! There is nothing like enjoying your loved ones around a yummy home-cooked meal, especially at the beach! If you are headed out for your end-of-summer family vacation, be sure and take a Vacation Plan with you!