Please tell me that it hasn't been too long for some of you to remember Napoleon Dynamite. To refresh your memory, this was a B-movie, released in 2004. Of course, my kids were 'all about it'. As I passed by the TV, I could hear bites of verbiage and  occasionally glanced to see what the big deal was. I have to admit, there was nothing about it that drew me in. The opposite happened… just shoot me now… what is with this weird, absurd and slightly irritating movie that they will most likely watch over and over again??
This was clearly going to be a sensation… simply by the reaction of my kids and the hype surrounding this movie. How would I stand the drone of that weird Napoleon? Then next day, I noticed that on the flip side of the DVD was 'The Making of Napoleon Dynamite". This intrigued me. I decided that since my kids were SO taken by this movie, I had to give it a chance. So, I sat down to see if I could stand to watch it.
Well, you guessed it. I was hooked. I met the cast and crew, writers and director. They told stories of the how the movie was conceived… how several scenes were things that had actually happened to them. These included the scene where Napoleon and 40 other students witness a farmer putting down a sick cow with his double barreled shotgun in the field as the school bus stops to let little farmer Johnny boy get off the bus. Characters in the story were adapted by real people in their lives. Some of the actors were family members, as the principal from the school in the movie was Napoleon's grandfather.  As I digested all of this information and hilarity… I was hooked.
A few days later, our family sat down to watch it again and I had new eyes. I was easily sucked into the fan club. Who couldn't love Deb with her side ponytail, Uncle Rico's fading glory days and the faithful friend Pedro? …or moon boots, the Happy Hands Club, chap stick and the chicken house? …oh, and, Lafonda and Kip and love songs about technology?
And then, Napoleon. The story reached its fever pitch as he danced the first take, un-choreographed dance of dances… in the moon boots. Epic.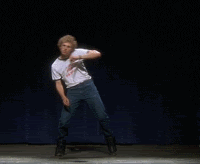 This movie became a cornerstone for my thinking about how we as parents choose to get into our kids world. I want to relate to them. I want them to see me enjoy their generation's fads and humor. Whatever it takes to connect with them… as much as it depends on me, I'm going to make the effort to do that.  I want to be in it with them so that I can weigh in on how it is shaping their thinking and their worldview. We gain more of a voice when they see us genuinely taking part in their world. This is priceless.
We'll always share an easy giggle or wink when someone utters in a deep mumbling voice,  "You got any chap-stick?" Or starts singing in this irritatingly airy voice, "But, I still love technology, always and forever." I'll always love Napoleon for offering me a chance to come alongside my kids and share a laugh that lives on in our memories.
Are you willing to endure a "Napoleon"? Some of us out there need to give it a try. You'll see.