This week, our Paleo and Gluten Free meal plans (among others) had some fun with flourless pasta options. The results? The easiest sweet potato "pappardelle" you've ever had! Pappardelle ("gulp down" in Italian) are flat, long, wide noodles. Because sweet potatoes mimic this shape naturally, they're easy to make into vegetable-based "pasta." Two simple steps are all you need.
First, peel and discard skins from the sweet potatoes. Then shave the potato lengthwise into long strips using a vegetable peeler.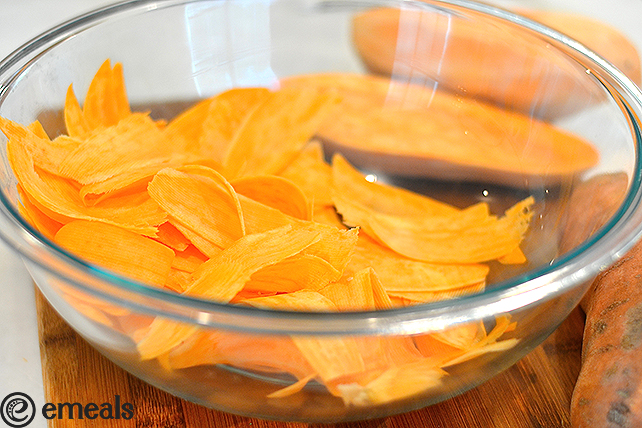 Place the sweet potato ribbons in a large microwave-safe bowl. Cover with plastic wrap, and cook on HIGH 5 to 7 minutes or until just tender. We liked ours with a little bit of crispness still for texture, but you can cook a little longer if you prefer. Toss the ribbons with some olive oil and salt and pepper to taste, and serve your favorite sauce or meat mixture over them. We paired them with our Spicy Flank Steak and Pepper Stir-Fry (pictured above) for this week's meal plan. Enjoy!