A recent interview with ParentLife Magazine reveals how Jane's passion for her own family's deep connection with each other grew out of her life experiences.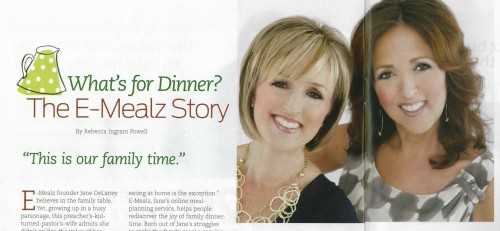 Article excerpt:
E-Mealz founder Jane DeLaney believes in the family table. Yet, growing up in a busy parsonage, this preacher's-kid-turned-pastor's wife admits she didn't realize the value of her family's daily dinnertime until she became a parent herself. "Our family bonding time was around that table," she says, remembering the happy bedlam she shared with her four siblings. "Even though it was total chaos, we were connecting: eye to eye, face to face, shoulder to shoulder…

Raising your family is like painting a portrait," says Jane. "You can't speed through it. You take it one brushstroke at at time." When Jane looks back other childhood, she understands that dinnertime was her mother's daily investment into the heart of the family. "Dinnertime is hard some nights for me, and I know it was for her. But I do it for the same reason she did it, because it needs to be done repeatedly. When I look back on that, it keeps me motivated."
You can read the entire article in the February issue of ParentLife Magazine, available at LifeWay Bookstores or most Baptist churches.The article includes two EMeals favorite recipes, LASAGNA CHEESE SOUP (below) and MONA'S FUDGE PIE (click here for recipe).