Onions show up in recipes for everything from chili and rice pilaf to salads. But there's no need crying over chopping onions! Follow these simple steps to quickly and easily chop an onion.
Cut off the stem end, and discard. Cut onion in half lengthwise from root to stem end. (Tip: Placing the onion on the cut side will help it remain stable while you cut.) Discard outer papery skins.
Place 1 onion half, cut side down, on the cutting board. Staring at the stem end, make horizontal slices through the onion, cutting close to but not through the root end.
Now cut slices through the onion top to bottom, holding the knife perpendicular to the root and leaving the root end intact. (This will help keep the onion pieces together in one piece while you work.)
And last, cut the onion from top to bottom again, holding the knife parallel to the root end, to chop. Discard the root end. Repeat the procedure with the remaining half of onion.
TIME-SAVING TIP: Set aside some time each weekend to chop the veggies that you'll need throughout the week. This will help reduce the amount of prep work needed on busy weeknights. You can store chopped onions in zip-top plastic bags in the refrigerator up to a week.
BONUS TIP: Peel and refrigerate the onion before chopping to avoid watery eyes.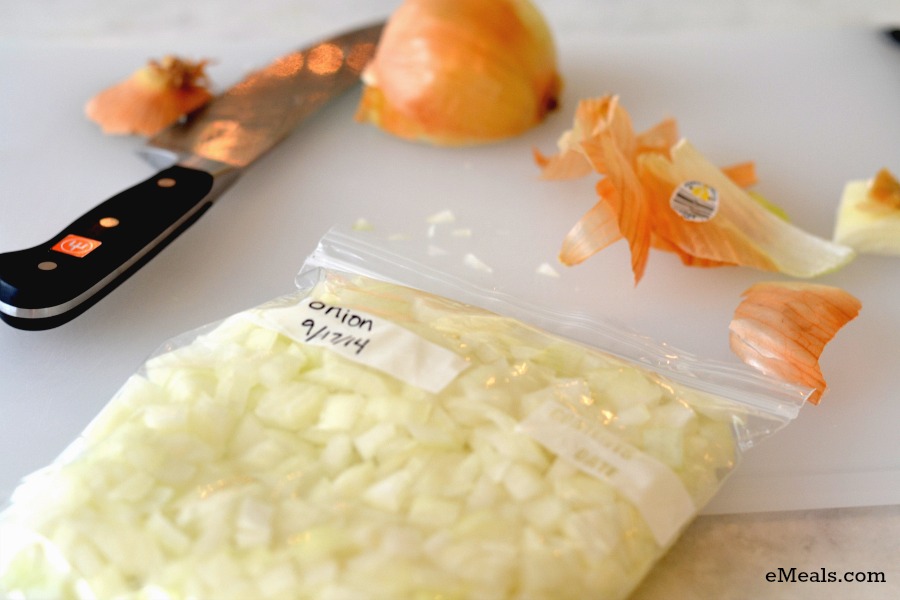 Want to practice your onion-chopping skills? Try out these recipes from the eMeals Kid-Friendly, Paleo, and Slow Cooker plans: