Fall vegetables are here, and with them, fennel bulbs! Our Test Kitchen has been busy cutting, chopping, and garnishing with this pretty fall favorite, and we're here today to show you how to work with it just like our Test Kitchen professionals. So don't shy away from this fall veggie when it pops up in your grocery store. Instead, read on to master the simple steps to cutting fennel like a pro.
First, cut off the root end (see first graphic in this post) and discard. Then cut the round, white bulb away from the green stalks.
Next, cut the bulb lengthwise into quarters.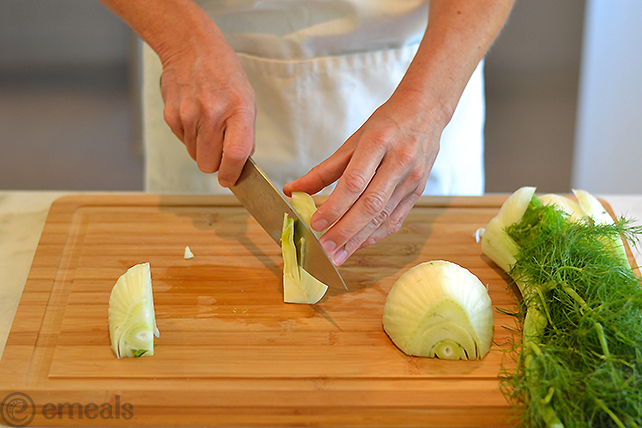 Trim away the center core of each bulb quarter.


Thinly slice (or chop) each bulb quarter.


Next, remove the green fronds from the stalks. Fronds make for great additions to salads, or use them as pretty garnishes to soups and stews. Think of them like dill.
Thinly slice (or chop) the stalks.
Done!

Fennel is available from fall through spring, and should be stored in the refrigerator wrapped tightly in a plastic bag up to five days.