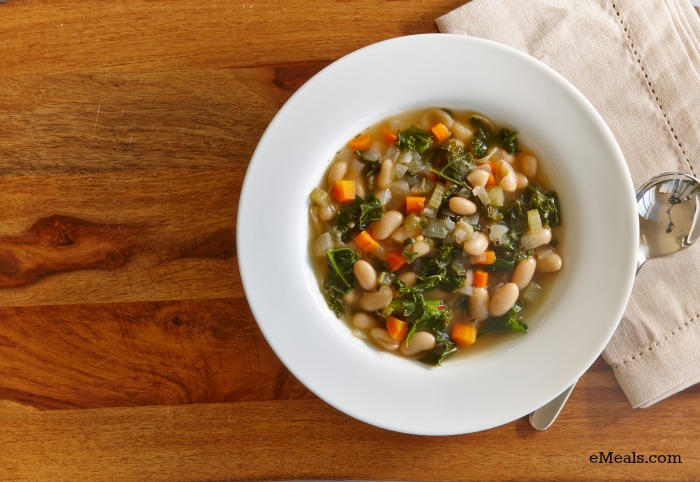 Prepare a flavorful low calorie soup in your slow cooker for an easy meal on a busy weeknight. Throw all of the ingredients in your slow cooker, and come home to a dinner that's ready to go.
This hearty soup has 6 grams of filling fiber, 10 grams of protein, and just 128 calories per serving. The addition of 2013's favorite superfood, kale, means each serving container over 100% of the daily recommended intake of Vitamins A and C. Add quick Parmesan cheese toasts for dunking, if desired.

Low Calorie White Bean Kale Soup
Ingredients
32 oz carton fat-free, reduced-sodium chicken broth
2 (15-oz) cans cannellini beans, drained and rinsed
1 medium onion, chopped
½ cup chopped carrot
½ cup chopped celery
1 tablespoon chopped fresh rosemary
¼ teaspoon salt, ¼ teaspoon black pepper
¼ teaspoon crushed red pepper
1 lb fresh kale, chopped
1 tablespoon white wine vinegar
Instructions
Combine broth, beans, onion, carrot, celery, rosemary, salt, black pepper and crushed red pepper in a 4-quart slow cooker, stirring to combine.
Cover and cook on Low 6 hours.
Stir in kale; cover and cook on High 1 hour longer.
Stir in vinegar before serving.
Divide into 6 equal portions.
Nutrition Information
Calories:
128
Fat:
.5 g
Saturated Fat:
.1 g
Carbs:
22.5 g
Sodium:
713 mg
Fiber:
6.1 g
Protein:
10.5 g
Chol:
0 mg
Sign up for one of our
healthy meal plans
, and receive our Low Calorie Jump Start Guide for free.  You'll find recipes like this one on some of our healthy meal plans