Join us in celebrating National Breakfast Month by setting a goal to eat breakfast most (or all) days of the week. Check out some of our favorite recipes, and be sure to check out the eMeals Healthy Breakfast Plan and follow our Rise and Shine board on Pinterest.
Clean Eating Refrigerator Oatmeal
This recipe is one of our most popular of all time via Pinterest. It is both healthy and filling!
Ultimate Blueberry Muffins with Oat Streusel
These blueberry muffins get an upgrade from the addition of strawberry yogurt and a crumbly oat topping. Enjoy warm with a glass of milk, yum!
Chocolate-Banana Smoothie
Try this great recipe to relax and cool off during the hot days of summer instead of a cup of coffee. OK, let's be honest, you're probably still having the coffee, right?!
Ham and Pimiento Cheese Brunch Pizza
The pie topped with pimiento cheese, ham and eggs is the perfect recipe to satisfy your morning hunger.
Toast with Peaches, Honey and Cream Cheese
This simple treat is a perfect blend of smooth creaminess from the goat cheese and a satisfying crunch from the toast.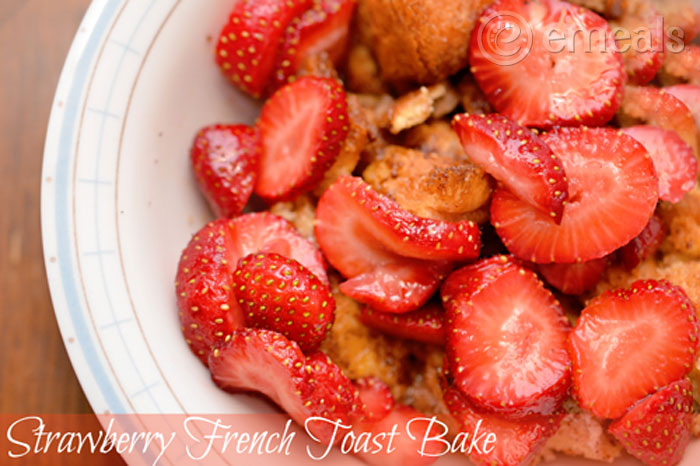 A fabulous fruity dish to make over the weekend! What a summertime treat!
Cheesy Ham and Hash Brown Casserole
Hearty and full of flavor, this casserole is a great Saturday morning brunch for a crowd!
Banana Muffins
These muffins have a fruity taste that are sure to awaken your taste buds in the morning! Bonus? They're freezer friendly!
Pumpkin Chocolate Chip Muffins
By replacing half of the flour in this recipe with whole wheat flour, you get an extract dose of heart-healthy and filling fiber. Pumpkin makes these muffins moist and adds Vitamins A, C, E, and K and fiber, not to mention the flavor of fall. Adding a small amount of chocolate chips makes these muffins sweet enough for a dessert that you can feel good about.
Apple Spice Muffins
Café muffins can weigh in at over 500 calories and contain a day's worth of saturated fat. With a few healthy substitutions, you can make your own with just 150 calories, 0 grams of saturated fat, and 2 grams of fiber.
Those of you who have tried any of these recipes, please let us know what you think! We'd love to hear! How often do you eat breakfast each week? Share with us on Twitter: @eMeals.