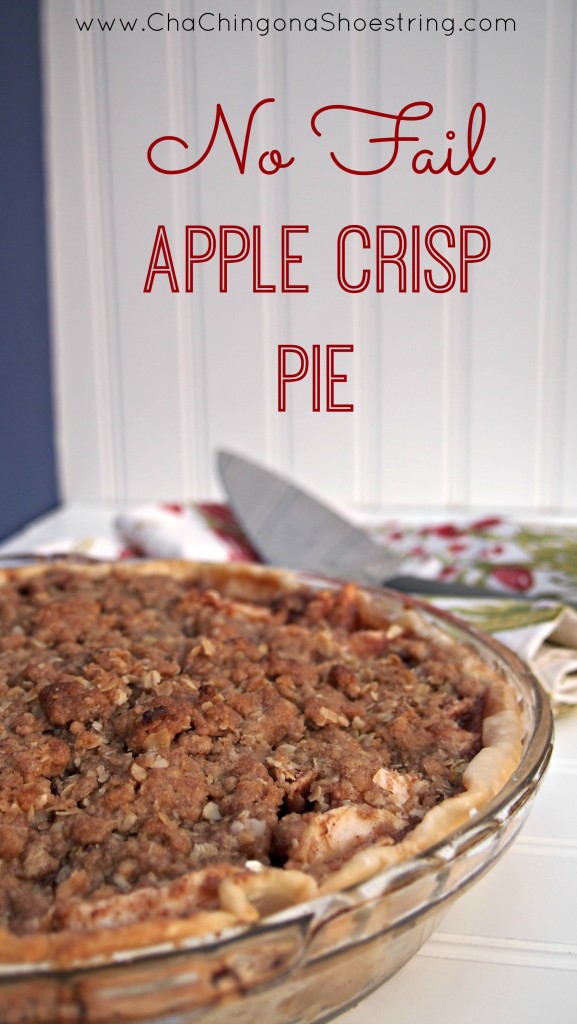 Over the next few weeks, we'll be showcasing desserts featured in our Pinterest contest from some of our fabulous bloggers. Make sure you go enter to win our 1 year subscription eMeals giveaway & Target gift card giveaway here.
When I was first married, a friend gave me a cookbook. I thought I would just add it to the stack I had already received until I noticed that she had taken a pencil and thoughtfully circled all of her favorite recipes. Not only that, but on each of her favorite recipes, she had scratched off and added ingredients to show me how she would make the recipe even better. Since this friend was – in my opinion – a gourmet chef, this cookbook became my Go-To Resource for recipes to impress.
And that's when I discovered my all-time favorite Apple Crisp Pie Recipe. I have made this pie for every Thanksgiving as far back as I can remember – and I can't remember a single time that it has failed me. It provides the perfect blend of flaky goodness and a crumbly sweetness.
I also LOVE that I can mix together the filling (minus the apples) and the topping ahead of time and simply throw it together on Thanksgiving morning (or any day!) – no stress involved!
No Fail Apple Crisp Pie
Ingredients:
One pkg Pre-Made Pie Crust (This was my contribution to the recipe – I love keeping things simple.)
Filling:
4 Granny Smith Apples, peeled, cored and sliced (I like a fat pie, so I used 6 – 8.)
3/4 c. Sugar
2 tsp. Ground Cinnamon
1/4 c. All Purpose Flour
Topping:
3/4 c. Brown Sugar
3/4 c. All Purpose Flour
1 tsp. Ground Cinnamon
1/2 c. Rolled Oats
1/2 c. butter, chilled
Directions:
Fit pastry into a 9-inch pie plate. Place Apple Slices in a bowl and toss with the flour, cinnamon, and sugar. Fill pastry shell with apples, rounding up in center.
Combine remaining dry ingredients. Cut butter into small pieces, and add to dry ingredients. Mix with fingers, forming a ball. Pinch off small pieces of topping and drop onto top of filling, covering all of the apples.
Bake for 15 minutes in a 425 degree oven. Reduce heat to 350 degrees and bake another 25 – 30 minutes or until top is golden brown and apples are cooked. I always like to cover my pastry around rim with aluminum foil to keep it from browning too fast.
Serve warm with whipped cream.
Recipe adapted from Junior League of Binghamton's Family & Company Cookbook.
Enjoy!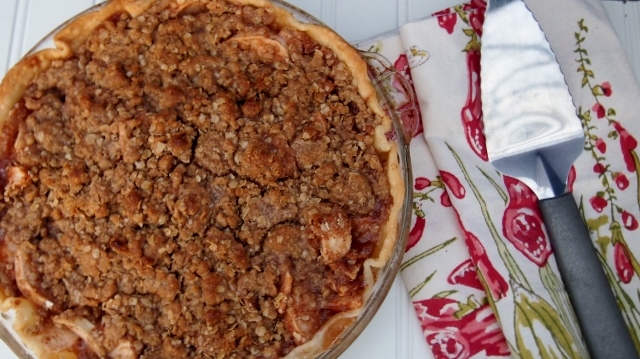 Kaley Ehret is a whole lot more comfortable saving dough than baking it and she shares her money-saving secrets daily on her blog, Cha-Ching on a Shoestring. Her husband and three boys are grateful that she discovered eMeals 5 years ago and no longer serves Frosted Mini Wheats as a dinner entree…most of the time.