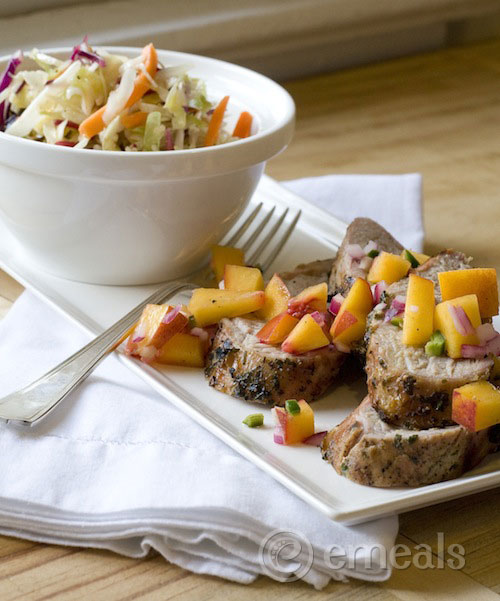 Recently eMeals announced the launch of our new Paleo Meal Plan, which is live today! Our new plan is "Paleo Made Possible," providing seven dinner recipes and a shopping list every week. The recipes are simple and family-friendly, based on the guidelines of the Paleo diet, so you can create Paleo dinners to please your entire family each night of the week.
Check out the sample recipe below from one of our Paleo Meal Plans. Need more information about Paleo Diets? Click here for our "What is Paleo?" infographic.
Pork Tenderloin with Peach Salsa and Peppery Slaw
This pork gets a bright splash of flavor from the lemon and garlic marinade that's balanced by the sweet-hot peach and jalapeno salsa. Finish the meal off with a serving of peppery cabbage and carrot slaw and you've got a flavorful meal that will leave you totally satisfied without the addition of grains or dairy.

Paleo Meal Planning: Pork Tenderloin with Peach Salsa and Peppery Slaw
Ingredients
1 pound pork tenderloin, trimmed
2 tablespoons chopped fresh parsley, divided
1 tablespoon lemon zest
1 tablespoon minced garlic, divided
1 ½ teaspoons olive oil, divided
¾ teaspoon kosher salt, divided
¾ teaspoon black pepper, divided
1½ cups chopped fresh peaches
¼ cup chopped red onion
2 tablespoons lemon juice
1 tablespoon chopped fresh jalapeno
2 cups angel hair slaw
1 cup shredded carrots
⅓ cup cider vinegar
3 tablespoons extra virgin olive oil
1 teaspoon red pepper flakes
¼ teaspoon ground red pepper
Salt and pepper to taste
Instructions
Preheat grill to medium-high heat. Combine 1 tablespoon parsley, lemon zest, 2 teaspoons garlic, 1 teaspoon oil, ½ teaspoon salt, and ½ teaspoon pepper in a small bowl. Rub mixture evenly over pork. Let stand 30 minutes at room temperature. Grill pork 20-22 minutes or until desired degree of doneness. Remove from grill and let stand 15 minutes before slicing.
To prepare salsa, combine peaches, red onion, lemon juice, and jalapeno in a bowl. Stir in remaining 1 tablespoon parsley, 1 teaspoon garlic, ½ teaspoon oil and remaining ¼ teaspoon each salt and pepper.
Combine slaw and carrots in a bowl. In a separate bowl, combine vinegar, extra virgin olive oil, red pepper flakes, ground red pepper, and salt and pepper to taste. Pour vinegar mixture over cabbage mixture and toss to combine; let stand 30 minutes.
Serve peach salsa over pork and slaw alongside.
Nutrition Information (per serving): Calories: 312, Total Fat: 15.2 g, Saturated Fat: 2.6 g, Cholesterol: 74 mg, Sodium: 450 mg, Total Carbohydrates: 17 g, Dietary Fiber: 4 g, Sugars: 3 g, Protein: 26 g
Check out our paleo Pinterest board for even more great ideas!