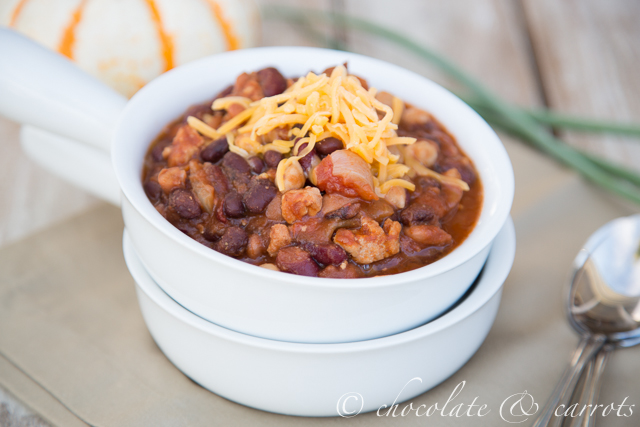 This recipe was submitted by Caroline from the blog Chocolate and Carrots. She said this quick crock-pot chili is the way to go for a quick meal on a chilly night. It comes together easily and simmers in your crockpot while filling your home with delicious scents!

Quick Crock Pot Three Bean Chili Recipe
Ingredients
½ pound lean ground beef or turkey
1 sweet medium onion, chopped
15 ounce can black beans, drained and rinsed
15 ounce can chickpeas, drained and rinsed
15 ounce can kidney beans, drained and rinsed
28 ounce can crushed tomatoes
½ cup water
2 tablespoons chili powder
1 teaspoon cumin
½ teaspoon salt
¼ teaspoon pepper
Optional Toppings: Shredded cheddar cheese, sour cream
Instructions
Heat a nonstick skillet over medium-high heat. Add the meat and onion; cook, stirring to crumble, until browned.
Transfer the meat and onions to a crock pot.
Add the beans, tomatoes, water, chili powder, cumin, salt, and pepper, and stir to combine.
Cook on low heat for 6-8 hours.
Serve topped with shredded cheddar cheese and sour cream, if desired.