As a fresh out of college newlywed, frivolous spending was not in my vocabulary. I still remember my very first "big girl" shopping trip to Publix with no list and no idea how much a box of cereal really costs. Eventually, with the help of savvy friends, my vocabulary began to include words like "BOGO" and other crazy coupon lingo that the hubby still doesn't understand. I quickly learned that there are easy ways to enjoy the clean organized atmosphere, fresh meat and produce, and friendly helpful staff at Publix and still save money. Here are a few tips I have found helpful: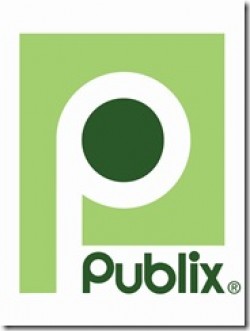 BOGO
During a BOGO (buy one get one free) sale, you do not have to purchase two items to receive the discount. BOGO items each ring up 1/2 of the regular price; essentially they are 1/2 off items. In Florida however, you must buy both items to receive the discount.
Competitor Coupons
Most Publix stores have a list (usually at customer service) listing exactly which competitor coupons they accept. Each store is different and the competitor has to be within a 10 mile radius of the Publix. Make an effort to know this list, it is available at the customer service desk.
Coupon Matching
Publix allows the use of one manufacturer coupon AND one store coupon per item purchased. This applies to BOGO items as well. The store coupon can be a competitor coupon or Publix coupon. This is why knowing the competitor list is important.
Coupon Doubling
Publix doubles coupons up to and including $0.50. There are no limits to the number of coupons they will double. Only manufacturer coupons will double. Store and competitor coupons will not double. This policy does not apply in Florida.
Expired Coupons
Publix does not accept expired manufacturer coupons. Some cashiers might be lenient and accept a coupon that expired in the same month you are using it. However, Publix does take expired store coupons but not expired competitor store coupons.
No Coupon Limit
Publix does not limit the number of coupons that can be used per transaction. BUT after a $50 coupon threshold has been reached, a manager override is necessary in order to accept any additional coupons. The registers also require that the number of coupons and items purchased be equivalent. If you have more coupons than items a manager override is also required.
Rain Check
If you find an item out of stock, Publix will gladly give you a rain check for any sale item. The rain check will be for the sale price and can be used after the sale is over.
Penny Item
The penny item coupon is valid on Wednesday or Thursday depending on your store. The coupon can be found in the ad located in the paper for that day. Florida does not participate in this promotion.
Be an Honest Couponer
It really is a true statement that Publix strives for customer satisfaction. Being a rule player and using coupons appropriately ensures that Publix will remain a coupon friendly store. If you do coupon, I guarantee you have had at least one stressful experience at checkout. This includes: flying coupons, crying babies, panic sweats, frowns and shoe taps from customers waiting behind you. All over whether or not the innocent victim, I mean cashier, will make you the next Extreme Couponing star. Rest assured it happens. I highly suggest establishing a relationship with your store staff. Asking questions if there is ever a doubt about policy and being an honest customer will be better than "flying under the radar" in the long run.
Publix Publications
If you have children, I strongly recommend you enroll in the Publix Baby Club. The club mails you coupons throughout the year for items needed based on your child's age as well as coupons for produce meat, and dairy. You can enroll on Publix's website. Publix also has four different magazines distributed several times a year. Each is filled with great articles, recipes and COUPONS. You can sign up for these magazines on Publix's website as well.
Upromise 
Publix also participates in the Upromise program. You can request a keycard at the customer service desk. Once the card is registered you will earn money for college just by shopping at Publix. Lean more here.
Advantage Flyers
You can find green and yellow advantage flyers at the front of every Publix store next to the current sales ad. These flyers include store coupons usually for seasonal and sale items.
Make a List
Never leave home without a list. This is why E-Mealz is so helpful….we make the list for you, so you know you are getting the best deals based on what is on sale!  One can spend hours collecting coupons but will never reach maximum savings without a list. Most shopping trips, I invest a good half hour matching the sales ad with coupons and creating my list based on these items for my snack, breakfast, and lunch items. I never buy anything that is not on my list i.e. not on sale or without a coupon. There are many websites and blogs out there that are extremely helpful when coupon matching. I commonly use Southern Savers, a great resource that actually creates a shopping list every week based on the sales ad and coupon links at Publix.
Publix Promise
Lastly, check your receipt before you leave. The Publix Promise guarantees that if during checkout, the scanned price of an item exceeds the shelf price or advertised price, they will give the customer one of that item free. The remaining items with be charged at the lower price.
I hope that you find this information valuable for your next Publix shopping trip. Good luck and happy savings!
Meaghan is our Publix for 2 meal plan writer. She and her husband, Ross, have one fur baby Sadie.  Meaghan has been working at E-Mealz since April of this year.