Many of you may have tried this recipe before and not even known that it was called puppy chow.  I was really in shock when I first learned what it was when I went to college and all the girls commonly referred to it as such.  Rest assured, once you make this chocolatey peanut butter treat, you will not want to give it up to your puppies though!
This recipe is easy to make, and you most likely have most of the ingredients on hand already.  Anytime that we make it, even though I think I've made enough, it disappears faster than I ever would have imagined!  This treat is enjoyed by kids and adults alike and in fact was the first dessert we ran out of at a recent Christmas party. Get your kids involved by letting them shake the bag to coat the cereal and watch the fun begin!
Puppy Chow:
Ingredients:
1/2 c peanut butter
1/4 c butter
1 c chocolate chips
1/2 t vanilla
9 c Crispix or Chex type cereal
3 c powdered sugar
Instructions:
1. Combine peanut butter, butter and chocolate chips in a microwave-safe bowl.
2. Microwave for one minute then stir to blend all ingredients thoroughly. Add 1/2 teaspoon vanilla. Stir well.
3. Place the 9 cups of cereal in a very large bowl.
4. Pour the peanut butter-chocolate mixture over the cereal and toss evenly, making sure all the cereal gets a good covering.
5. Place the powdered sugar in a large zip type plastic bag.
6. Add the peanut butter-chocolate cereal mixture to the bag, leaving enough room for the puppy chow to be shaken (you may have to divide the mixture into smaller batches, coating one batch at a time).
7. Shake the bag vigorously to evenly coat each piece of the puppy chow with powdered sugar.
8. Once the mixture is fully coated, place in a large serving bowl.
9. Coat any additional pieces by shaking the mixture in the powdered sugar filled bag.  Add powdered sugar to the bag as needed until all the mixture is coated.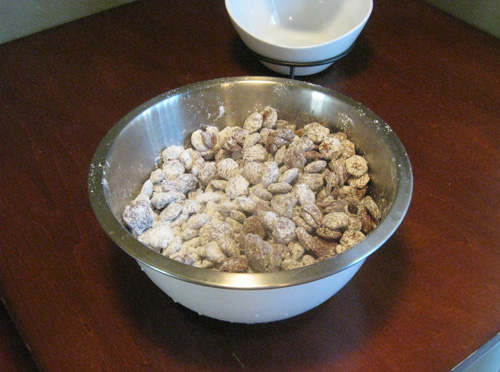 Have you all made puppy chow before? Is that what your family calls it?  We'd love to hear your stories about this memory-evoking recipe.