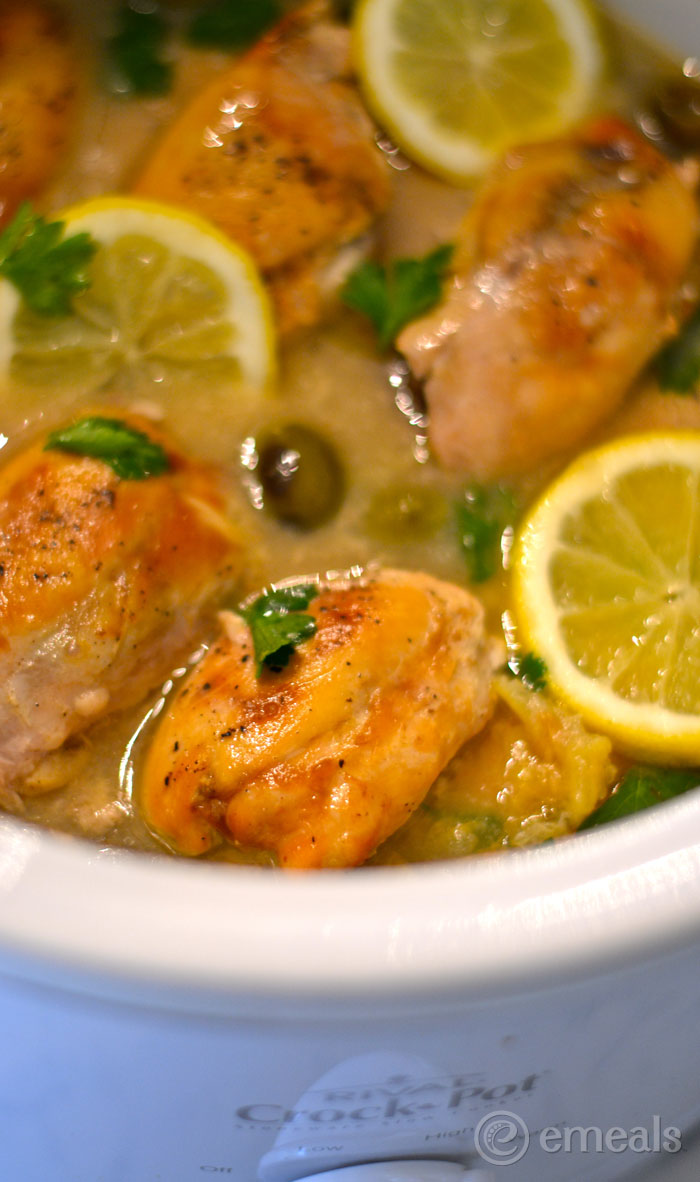 Our slow cooker meal plan was one of our most anticipated plan launches ever! And in honor of this exciting time that so many of you have been looking forward to, we are giving you a recipe from our Clean Eating Slow Cooker Meal Plan. There are four slow cooker plans available through eMeals: Slow Cooker Clean Eating Family, Slow Cooker Clean Eating for 2, Slow Cooker Classic Family, and Slow Cooker Classic for 2.
Clean eating was one of the top requests we heard from our members when we asked for feedback on Facebook about what you wanted to see from a slow cooker plan. Keeping this in mind, we decided the best way to accommodate everyone on our meal plans was to create multiple options: slow cooker and classic.
This recipe has a nice, robust lemon flavor that blends well with the olives for a vibrant dish that will have your taste buds singing. Now, we'd love to have you come share your favorite slow cooker recipe with us on Facebook!

Slow Cooker Clean Eating Meal Plan: Lemon Chicken Thighs with Olives Recipe
Ingredients
12 boneless, skinless chicken thighs
¾ teaspoon salt
¾ teaspoon pepper, divided
2 tablespoons olive oil, divided
1 lemon, sliced
1 cup chicken broth
2 tablespoons fresh lemon juice
¼ cup all-purpose flour
½ teaspoon ground cumin
¾ cup pitted green olives
Instructions
Sprinkle chicken thighs evenly with salt and ½ teaspoon pepper.
Heat 1 tablespoon oil in a large skillet over medium-high heat; add half of chicken.
Cook about 3 minutes per side, or until browned.
Transfer to a slow cooker.
Add remaining 1 tablespoon olive oil to skillet, and repeat procedure with remaining chicken.
Transfer to slow cooker, and add lemon slices.
Combine broth, juice, flour and cumin, stirring with a whisk.
Pour broth mixture over chicken.
Top with olives and remaining ¼ teaspoon pepper.
Cover and cook on low heat for 6 hours.
Our slow cooker plans make the most of your time by reinventing slow cooked leftovers to create quick and easy dishes. See how to repurpose this meal in our
Chicken & Broccoli Pasta Toss
made with the leftovers from this meal.
**If you plan on using this recipe and the followup Chicken & Brocolli Pasta Toss, save about 4 chicken thighs.
To see some of our other popular slow cooker recipes, check out:
Paleo Thai Chicken Massaman Curry