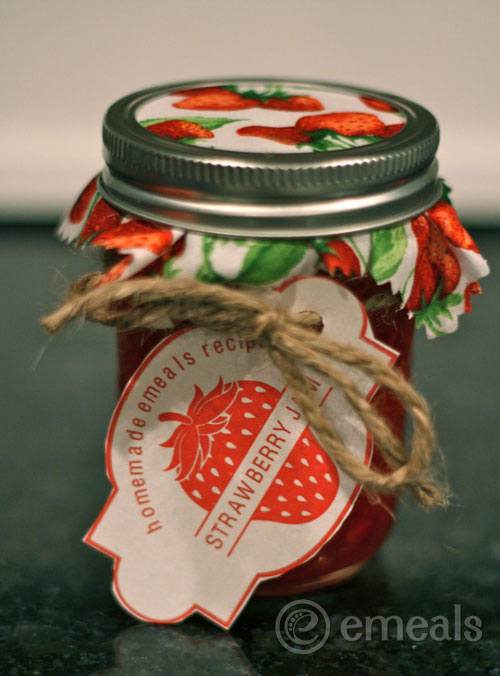 It's pick'in season y'all! The most glorious time of the year when berries cost next to nothing or, if you are really lucky, are growing for free in your own backyard. I've always wanted to try my hand at making my own jam but was intimidated by the intense process. This was before I discovered freezer jam. Super easy, a great way to enjoy your bounty all year, makes for awesome gifts, oh and most importantly… delicious!
Here's what you'll need:
8 half pint mason jars with lids
2 c crushed strawberries (buy 1 qt fully ripe strawberries)
4 c sugar
3/4 c water
1 box SURE-JELl Fruit Pectin
Printable jam labels and date tracker
Step One:
Rinse jars and lids with boiling water. Dry throughly. Stem and crush strawberries throughly, 1 cup at a time. Measure exactly 2 cups prepared fruit into large bowl. Stir in sugar. Let stand for 10 min; stir occasionally.
Step Two:
Mix water and pectin in small saucepan. Bring to boil on high heat, stirring constantly. Continue boiling and stirring for 1 min. Add to fruit mixture; stir 3 min. or until sugar is almost dissolved.
Step Three:
Fill all containers immediately after the 3 min are up. Leave 1/2 inch on top of mason jars. Wipe off all edges and immediately cover with lids. Let stand at room temperature for 24 hours. Jam is now ready to use!
The jam can be stored in refrigerator up to 3 weeks or in freezer up to 1 year. Make sure to thaw in refrigerator before using.
I had the best time decorating my jars of jam using scraps of fabric, ribbon, and these FREE eMeals jam jar printables. These make perfect neighbor or hostess gifts. If you want to check out some different customizable printable labels, check out this website.
Just for the record, the hubby and I have eaten strawberry jam and toast every morning for breakfast. Truly better than store bought. Get to pick'n y'all!
Have you tried making jam before? If so, what is your favorite?
Meaghan is our Publix for 2 meal plan writer. She and her husband, Ross, have one fur baby Sadie.  Meaghan has been working at eMeals since April 2011.