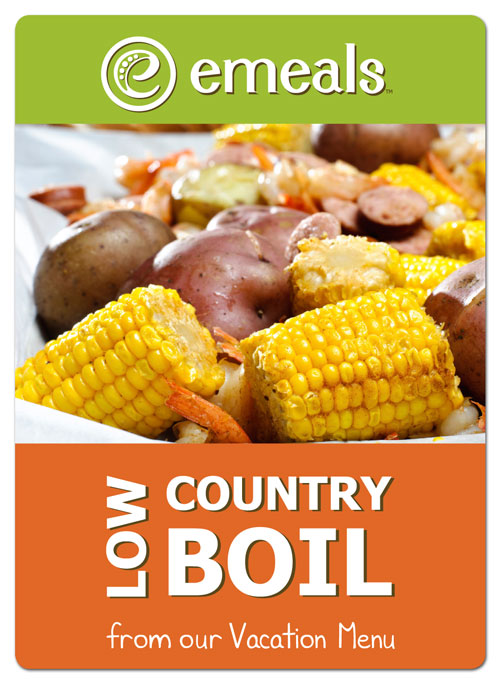 Our vacation menu is back! We've got 7 dinners planned out for you that serve up 12 people. You can cut it in half or double it depending on how many families or people you have with you on your vacation. Right now, when you sign up for eMeals you get the vacation menu for free! Our members already have it on their members page.
One of the meals on our vacation plan is our ever-popular Low Country Boil. This meal is an eMeals classic. It is not only a dinner but a fun event for everyone. If you've never had it, you MUST try it! Ask your meat man at the grocer to sell you an 8 foot run of butcher paper to cover a picnic table. Dump all your cooked shrimp, kielbasa, onions, corn on the cobb and potatoes down the middle of your table. Serve with sour cream, butter, salt, pepper, and cocktail sauce. Serve some hot cornbread and have some bowls on the table for discarded shrimp shells. Oh! And don't forget the napkins! This is a messy good time for everyone to enjoy!

Ingredients
5 lb bag red potatoes, washed
3 Vidalia onions, cut into quarters
2-16 oz pkgs kielbasa, cut into 2″ pieces
1 pkt shrimp/crab boil seasonings
6 ears fresh corn on the cob, shucked, cut in half
3 lbs fresh shrimp, with shells
Cocktail sauce
Sour Cream
Butter
Salt/pepper
Instructions
In a very deep stock-pot, fill halfway with water.
Bring to a boil.
Add potatoes and onion.
Boil for 15 minutes.
Add kielbasa, crab/shrimp seasoning packet and corn on the cob.
Continue boiling for 10 more minutes.
Just before serving, toss in the raw shrimp and boil for 3-5 minutes.
Don't overcook in the shrimp!
Drain out all the water.
Dump contents of pot in a large pan OR on a picnic table covered in butcher paper.
Discard the season packet.
Have plenty of butter, sour cream, cocktail sauce and salt/pepper to garnish with.
If you are traveling soon, you may also want to check out our article on
5 ways to save on food while you travel
.
Do you want easy, fun recipes like this for your family every night? Try out the eMeals meal planning system here!