A week or so ago, we polled our Facebook followers for information they'd like to see on the blog. Numerous folks requested information on freezing. So today, eMeals Menu Editor Kate Nicholson is here to share her top tips for freezing. Have a question she doesn't cover here? Leave it in the comments section and we'll be happy to answer it! Without further ado, the Ultimate Guide to Freezing.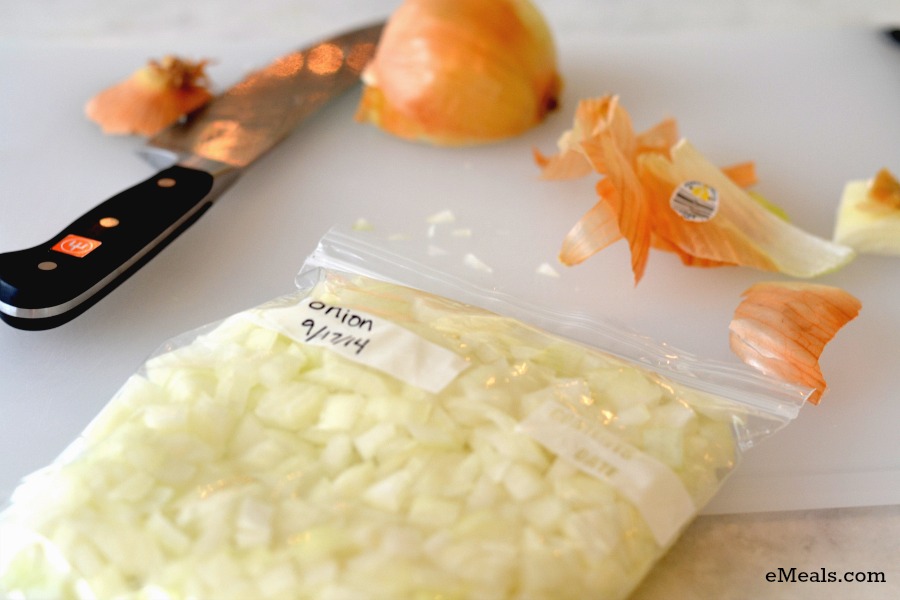 FREEZE INGREDIENTS FOR SHORTCUTS TO SUPPER
Stock your freezer with shredded cheeses, cooked ground meats, chopped deli rotisserie chicken and chopped veggies, and you're on your way to save time and money when it comes to feeding the family. Many recipes call for similar ingredients over and over again, such as chopped veggies, shredded cheeses, and chopped meats. Freezing them already prepped will make for superfast work the night of.
You can watch for sales at your local grocery store and capitalize on them by buying, cooking, shredding and storing for later use. If properly stored, cooked meats, shredded cheese and chopped vegetables can be frozen up to three months. Check out our tips to freezing success:
• Cheese: Preshredded cheeses are convenient and freeze great but can be costly. Instead, consider shredding/grating your own, which will definitely save you some money.
1 (8-oz) block of cheese equals about 2 cups shredded.
Tip: Partially freezing the block, especially softer cheeses such as Monterey Jack and Swiss, makes grating much easier.
•Cooked Ground Meats: Having this in the freezer can often save you an entire step in recipes.
1 to 11/4 lb uncooked ground beef, turkey, or sausage equals about 21/2 to 3 cups cooked and crumbled.
•Chopped/Cubed Deli Rotisserie Chicken:
1 (3- to 4-lb) whole deli rotisserie chicken equals about 3 to 4 cups chopped/cubed.
•Chopped Raw Vegetables: Most vegetables such as onions, bell peppers, carrots and celery can handle time in the freezer just as long as they are not frozen in their whole form. Chop first, then store raw in the freezer. We don't recommend sending them to the freezer after cooking/sautéing, etc.
Related Articles: How to Chop an Onion and How to Peel and Cube Butternut Squash Like a Pro
FREEZER GAME RULES
Plastic Bags and Containers: There are many options out these days, so make sure you use bags and containers that specify for use in the freezer. We generally refer to them in our recipes as zip-top plastic freezer bags and freezer containers. Also, label your items for freezing, including the amount and date. Plastic freezer bags come in specific sizes (gallon or quart) and offer the further convenience of a place on the bag to write label information.
SOUPS/CHILI/STEWS FIND A HOME IN YOUR FREEZER
This is definitely the time of year for making big batches of soups, stews, chili, chowders and gumbos. And when it comes to freezing, they are perfect candidates. So, you might as well make a double recipe of your family's favorite stew. Just follow these easy steps for storing and thawing. If properly stored, they can be frozen up to three months.
Perfect for freezing: Slow-Cooker Ham, Kale and Navy Bean Soup
Cool: To speed up the cooling process, place the pot of soup in an ice-water bath in the sink. Stir the soup occasionally (this helps to release the heat) until it's completely cool.
Storage:
1. Plastic freezer containers work great and come in many sizes. Again, make sure the container is freezer friendly. And, don't forget to label the container with the date and name of the soup. When filling, make sure to leave about half an inch at the top since the contents will expand when frozen.
2. Plastic freezer bags are also another great option. But what really makes them a great choice is their storage saving possibilities. Plastic containers tend to take up precious room in your freezer, while plastic bags can be stacked, taking up much less space. Check out these tips.
Label and date bags
Spoon cooled soup into the bag. We find placing the empty bag in a bowl, cuffing the bag over the edge then filling using a ladle makes it the job easy with little mess. As with the containers, the same rule applies: don't fill completely full.
Let out any excess air, and seal.
Lay bags flat in a single layer in the freezer. When frozen, stack bags up or down or place around in your freezer.
Tip: If you're freezing a soup, chowder, gumbo, etc. and it contains shellfish such as shrimp, do not freeze with the shellfish. We recommend adding fresh shellfish after thawing and reheating.
Reheat: Thaw containers or bags overnight in the fridge. Thick soups like chowders should be reheated over low heat, others over medium-low. Be sure to stir occasionally.
LET EMEALS HELP!
Many of the recipes on the eMeals Classic meal plans and Slow-Cooker Classic and Slow-Cooker Clean Eating meal plans lend themselves perfectly to freezing, the latter with the added convenience of utilizing a slow cooker.
Have questions on freezing? Leave them for us in the comments section!
-Text by Kate Nicholson