Christmas morning food is meant to be special. Even though much of your day in the kitchen may be given over to basting the holiday bird, you can still plan to start things off with something sweet. Here are two yummy offerings that our eMeals staff just goes wild over (especially the pancakes!).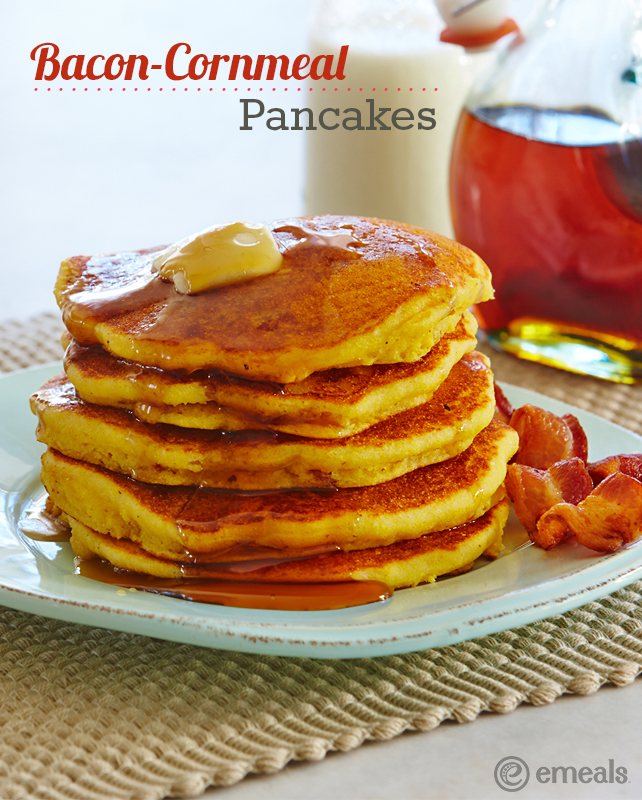 Our Bacon-Cornmeal Pancakes recipe makes a dozen hotcakes. What makes them special is the batter. Yellow cornmeal adds a unique texture, and when matched with crumbled bacon and a splash of vanilla—oh my, are these ever good. With syrup or without, we think you'll be making these again. If you don't eat them all, you can easily freeze them stacked with wax paper between each and placed in a zip-top bag. Then just pop 'em in the toaster right from the frozen state whenever the craving hits.

Bacon-Cornmeal Pancakes
Ingredients
6 slices center-cut bacon
2 cups self-rising yellow cornmeal mix
¼ cup white-whole wheat flour (or sub all-purpose flour)
¼ cup sugar
1⅓ cups buttermilk
2 large eggs
5 tablespoons vegetable oil, divided
2 teaspoons pure vanilla extract
Pure maple syrup
Additional center-cut bacon, cooked (optional)
Instructions
Cook 6 slices bacon in a skillet until crisp, and crumble.
Combine cornmeal mix, flour, and sugar in a medium bowl. Whisk together buttermilk, eggs, 4 tablespoons oil and vanilla in another bowl. Add to cornmeal mixture, stirring until blended. Stir in crumbled bacon.
Brush a large nonstick skillet with remaining 1 tablespoon oil; heat over medium heat. Pour about ⅓ cup batter onto hot skillet for each pancake. Cook until tops are covered with bubbles.
Turn and cook other side until golden brown. Serve with syrup. Garnish with additional bacon, if desired.
Cream Cheese-Stuffed French Toast is a rich brunch dish. Use whatever bread you prefer: French bread, ciabatta, cinnamon-raisin, croissants or thick slices from a sturdy loaf. The orange-scented cream cheese filling is barely sweet and makes each bite gooey good. If you've run out of time, you can forego the fruit topping and just serve the French toast with sliced strawberries, oranges, powdered sugar or syrup.

Cream Cheese-Stuffed French Toast
This is a messy but awesome Healthy Breakfast splurge. Make it indulgent by using thick slices of French bread and add whipped cream.
Ingredients
French Toast:
½ cup cream cheese spread, softened
1 tablespoon grated orange rind
8 slices whole grain bread
½ cup low-fat milk
½ teaspoon sugar
½ teaspoon vanilla extract
2 large eggs
Fruit Compote:
1½ cups frozen pineapple chunks, thawed
Juice of 1 orange
2 tablespoons brown sugar
½ cup sliced fresh strawberries
½ cup fresh blueberries
Powdered sugar
½ cup sweetened flaked coconut (or grated unsweetened coconut)
Instructions
Stir together cream cheese and orange rind until well blended. Spread mixture evenly over 4 slices bread. Top with remaining 4 slices bread, pressing gently around the edges to seal.
Heat a large griddle or large nonstick skillet coated with cooking spray over medium-high heat.
Whisk together milk, sugar, vanilla and eggs in a shallow dish until well blended. Dip 2 sandwiches in egg mixture, soaking 30 seconds on each side.
Add sandwiches to skillet; cook 2 minutes on each side or until lightly browned. Repeat procedure with remaining 2 sandwiches.
Combine pineapple chunks, orange juice and brown sugar in a small saucepan. Bring to a boil; reduce heat and simmer 5 minutes or until syrupy. Remove from heat; cool.
Stir in strawberries and blueberries. Serve Fruit Compote over French toast; sprinkle with powdered sugar and coconut.
We just love talking about food and family. Tag us with #eMealsEats in your Facebook posts, Pins, tweets, and Instagrams and show us what you're cooking this holiday season. Not familiar with eMeals? Check out our range of meal plans—everything from Low Calorie, Paleo, Classic, and Clean Eating—and find out how eMeals can help streamline your dinners and grocery shopping experience. We even have a free 14-day trial!
-Text by Julie Gunter