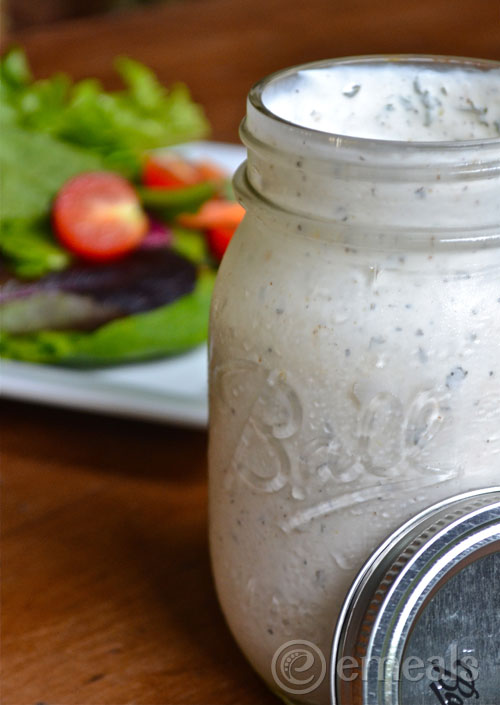 Homemade ranch dressing is quick and easy to make, and the difference in taste is incredible. Best of all, you probably have most of the ingredients on hand. Serve with a green salad or as a dip with fresh cut vegetables, and you'll have a much easier time getting your kids to eat their veggies.

Ways to Save: Ranch Dressing
Ingredients
1 cup sour cream
½ cup buttermilk*
1 tablespoon lemon juice
1 large garlic clove, minced
1 tablespoon dried parsley
½ teaspoon onion powder
¾ teaspoon salt
½ teaspoon black pepper
⅛ – ¼ teaspoon dried dill (to taste)
Instructions
Combine all ingredients in a jar. Shake vigorously until well mixed. Store in refrigerator for up to two weeks. Shake before each use.
*Note: If you don't have buttermilk, make your own by adding 1½ teaspoons white vinegar to ½ cup whole milk. Let stand for 5 minutes before using.
The cost of making our homemade Ranch dressing is about $1.19 (which comes out to $0.12/ounce). This estimate assumes that you would have to buy the sour cream, buttermilk, and lemon juice but you would have all of the spices on hand. We found the online price for a 16 ounce bottle of name brand Ranch dressing to be around $2.99 (which is $0.19/ounce). If you bought a jar of ranch dressing once a month, you could
save $22.56 this year
!
If you're looking for more homemade salad dressings, you may be interested in checking out our vinaigrette dressing.